We're thrilled to introduce Jitsi Meet Multivendor Addon—a game-changing integration for the Dokan Multivendor plugin on WordPress with our latest version.
In this era of digital transformation, connecting with customers, clients, and learners remotely has become more essential than ever. And now, with the power of Jitsi Meet integrated into the Dokan Multivendor ecosystem, you can take your online business to unprecedented heights.
Jitsi Meet's new multivendor addon that is introduced with version 2.2.0 now allows you to treat your meetings and webinars as products and open new revenue streams for your business.
Table of Contents
Advantages of Jitsi Meet Multivendor Addon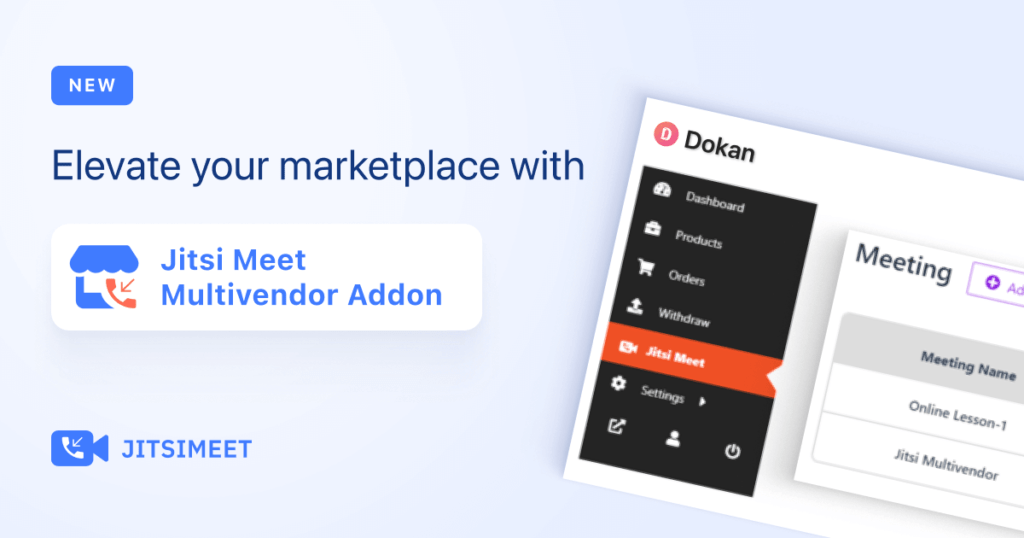 Imagine a world where webinars are not just events, but also products. The Jitsi Meet Multivendor Addon redefines the concept of online meetings by enabling you to seamlessly create and sell video meetings as products within your Dokan-powered marketplaces.
This innovative feature not only empowers you as the marketplace owner but also allows luxury upon your store owners to expand their offerings and elevate their businesses by monetizing video meetings.
No longer limited to physical products, the Dokan Multivendor plugin now enables you to generate revenue with your digital presence. With the Jitsi Meet Multivendor Addon, the possibilities are boundless.
Whether you're an educator aiming to offer virtual classes, a consultant seeking to provide expert advice, or an entrepreneur looking to host dynamic online events, this addon equips you with the tools to turn your expertise into a thriving digital business.
It is now easier than ever to sell webinars, online sessions, tutorials, and loads of other video content with Dokan and Jitsi Meet. Just install the plugins and get ready to earn revenues from your online meetings.
Advantages that Dokan users will enjoy:
Easily create meetings or webinars directly from the vendor dashboard
A marketplace that is more versatile and interesting with virtual products
Attract customers and visitors to sign up with the new meeting feature
Advantages that Jitsi Meet users will enjoy:
Users of Dokan and Jitsi Meet can now enjoy the full potential of the plugins with ease of use and better compatibility
Monetize webinars and virtual events by selling those on the vendor store
How to enjoy the feature?
You will need Webinar & Video Conference with Jitsi Meet Ultimate to enjoy the feature. After getting the Ultimate plugin. Also, make sure you have installed and activated WooCommerce and Dokan Multivendor Plugin on your website.
Last Words
Redefine the boundaries of products with the new Jitsi Meet Multivendor Addon. Monetize your webinars, online session, events, etc. with this new feature from Webinar & Video Conference with Jitsi Meet. Let us know your thoughts on how this can open new business opportunities for you.