Whether you are using Facebook, Twitter, Snapchat, or any other form of social media to promote your content, video marketing has revolutionized the concept of marketing.
Video and marketing are like peanut butter and jelly. They go very well together.
According to Wyzowl statistics, 91% of businesses are using video marketing tools in 2023. Because, rather than writing a long piece of content to explain your products, the audience will connect better with a video version of it.
On the other hand, video testimonials are another popular form of marketing right now. If you visit any product or service-based websites, you will find that they have added testimonials of their product.
So, today we are going to discuss why video marketing is so powerful and a video testimonial plugin can help you with improving your marketing game.
Table of Contents
What is video marketing?
Video marketing is the use of video content to promote your product, raise brand awareness and generate engagement. It's been widely used across many social and digital platforms to reach audiences who prefer video content more than traditional content like blogs or infographics.
Types of video marketing
Video marketing can be categorized among many types including product video and live video. Check our roundup of the 5 most popular video marketing types.
1. Product video
This type of video usually highlights the key features of a product. The objective of such videos is to help potential customers learn about a specific feature.
Check how WP Dark Mode introduced the social share feature through a product video.
2. Live video
Live videos, webinars, and Q&As are now a popular medium of product promotion. They are a great way to learn feedback directly from the users and engage with them in real-time.
3. Tutorial/how-to video
Tutorial videos are extremely popular and almost mandatory for new products. They provide an in-depth guide on how to operate a product or a new feature and usually generate good engagement and conversions.
4. Video testimonials
If made correctly, a good video testimonial can sell the product for you. Word of mouth is very important in today's business and testimonial helps your customers to learn the feedback of a prior user. It can convince them to choose your product on top of other competitors.
5. Social media videos
Most people these days spend time on social media and are more likely to engage with a product video they find on their timeline. Both regular and sponsored videos on social media can be a great medium to sell a product.
Why video marketing is so powerful in 2023
Undoubtedly, video marketing is one of the most important elements in your promotional toolbox. Video marketing is so powerful because it can help prospective customers get the required knowledge within a short time and take decisions.
You may still have your doubts, is it worth considering using videos to promote your business? Do you have enough resources to create and use video content in your marketing?
Here are the reasons you should adopt video marketing.
1. Boosting conversion & sales
Adding a product video to your landing page can increase conversions by 80%. That is close to 100%. So, you can easily understand from this one state the impact video has on your sites and sales.
Studies show that 74% of users who watched an explainer video about a product or service subsequently bought it. So, you should start creating videos for your products right away. Think about it, if pictures can boost engagement massively, just imagine what moving pictures can do to your business.
2. Building trust and raising brand awareness
In any kind of business, trust is very important. When you do business for a long time, you will have some loyal customers who will trust your products and buy them from you all the time. If you don't have the trust of your customers then you need to rethink your business strategy.
The whole concept of content marketing is based on trust and creating long-term relationships. Video does it all. It engages us and evokes our emotions right away. And when we talk about elite people in the audience, YouTubers have become the most powerful social media figure to promote your brand.
Effective marketing videos will conversationally represent your products. That will create a sense of individual approach, which is why 57% of consumers say that videos give them more confidence to purchase online.
Also a recent stat shows that 36% of marketers think of video marketing as an effective tool for raising brand awareness.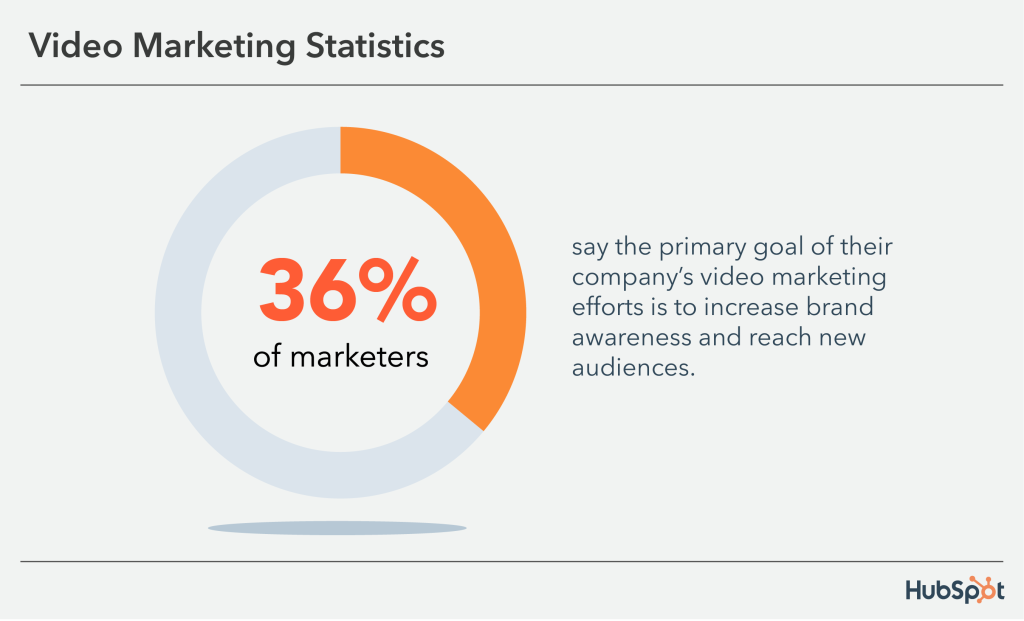 3. Google loves videos
One of the things that site owners struggle with is the bounce rate. If they don't have enough engaging content, they will have a higher bounce rate. Videos let users spend more time on their site. So, it gradually affects the bounce rate.
The longer users spend on your site, it creates trust and signals search engines that your site has good content. You're 53 times more likely to show up first on Google if you have a video embedded on your website.
You need to optimize your videos on YouTube for SEO. You need to give customers a way to take the next step and explore the world of interactive videos to encourage action even more.
4. Everything is easily explained
Want to launch a new product or service? Create a video that will explain everything. Users will love it. 98% of users say they've watched an explainer video to learn more about a product or service.
If you are trying to explain a difficult concept, then create animated videos. This can bring concepts to life that no text or live video can.
5. Encourages social sharing
Did you know that almost 60% of social marketers use video content to promote their content? So, you can how impactful video marketing is when it comes to social media marketing.
Social media channels also encourage video content with their new features. Facebook has launched 360* Video, Live Video, and Lifestage. However, you need to keep one thing in mind. Make the video as entertaining as possible.
Otherwise, users will not share your video with their friends, colleagues, and others. 76% of users say they would share a branded video with their friends if it was entertaining.
So, you can see how video marketing is turning the screws and helping marketers to reach more people.
5 ways a video testimonial plugin can promote your business
One of the key aspects of effective video marketing is video testimonials. 92% of shoppers read online reviews before buying, after all. Because customers believe the words of other customers rather than the salesperson. This stat alone gives you an idea of how effective video testimonial is.
If you look at all the big websites, then you will find that they have added video testimonials on their site.
However, to create the perfect testimonial, you will need the perfect tool. And Easy Video Reviews is the perfect way to do that. This is the best plugin if you want to add testimonials for your users on your site.
If they want, they can upload their video as well. Let's see how this plugin will help you in effective video marketing. This plugin will help you,
Create great video testimonials
The Easy Video Reviews plugin makes it easy for you to create testimonials. Also, it gives the user freedom to manage everything including testimonials, and subscription inside WordPress. They don't have to leave the plugin anytime.
That will make the job of the user very easy and less complicated.
Users can upload their videos
Users don't need to use this plugin to record their videos. Yes, this plugin will give users the chance to upload their pre-recorded videos. There is no specific format. Easy Video Reviews supports all kinds of formats of videos.
Works with low internet speed
How many places are there on this earth where the network is weak and the internet speed is slow? They don't get the chance to use these kinds of tools in their region.
Easy Video Reviews plugin will help the user record a video even at a low internet speed. Moreover, the plugin is device-friendly as well.
Also, when clients come to record, they can choose their own choice of selecting specific I/O devices before recording.
Add custom messages
The plugin gives you chance to promote your products inside the video box. When you are using this plugin you will get a video recording pop-up. In that pop-up, you can set a custom message in the footer, header, and most of all as a title.
This will help you do effective video marketing and also convey any information through the video testimonial plugin for WordPress.
Preview option available
A lot of the time when we are recording video we make some mistakes that we don't notice. That is why we have kept the preview option. With the preview option, when a user completes the video recording, he/she can view the video before submitting it.
That way, if they made any mistake or said something that they didn't want to, they can go back and fix it. This is one of the core features of the Easy Video Reviews plugin.
So you see how effectively the Easy Video Reviews plugin helps you to create engaging testimonials for your site.
Conclusion
To sum up, testimonial videos can be one of the easiest way to improve your website conversion rates. And it also plays a huge part in video marketing.
When you have a plugin like Easy Video Reviews, then adding testimonials to your website will be a piece of cake. If you have any suggestions for us, do share them with us.
FAQ
1. Why is video important in marketing?
Video marketing helps customers learn more about a product and take decisions while purchasing the product. According to recent statistics from Qyzowl, 89% of people said that watching videos have convinced them to purchase a product. Therefore, it's important to take full advantage of video marketing in customer and sales acquisition.
2. Why is video the future of marketing?
Video marketing is the future of marketing as more people are demanding content that can provide more information within a short span and videos are a great way to do that. According to Eyeview, including a video on the landing page can boost your conversions by more than 86%.
3. Why are videos better than pictures for marketing?
Videos are better for marketing as they are often easier to understand and can help users understand a product. They also are usually more engaging and promote sharing. According to Brightcove, videos get 1200% more shares compared to text and images combined.