Hello everyone, we've got some exciting news to share. Not exaggerating, but we've just released one of our biggest updates yet for WooCommerce Stock Sync with Google Sheets!
If you've been using this plugin for a while, you'll notice drastic changes throughout our plugin with this update.
You can now bulk edit WooCommerce products (our most requested feature), sync more products on the free version, and get helpful instructions while working on the connected Google Sheets.
So without wasting any more time, let's get into it.
WooCommerce Stock Sync with Google Sheets v3.3 Changelog
First, let's take a look at the new features and tweaks that have been added in v3.3:
Introduced bulk edit feature in Google Sheet.
Added top bar notice to notify users about the new Appscript updates.
Implemented a popup in Google Sheets to display loading during bulk changes.
Added a popup in Google Sheets after modifying view-only data.
Increased the product sync limit from 20 to 100 in the free plan.
Enhanced product syncing by updating specific products based on their index number in Google Sheets.
Resolved a fatal error that occurred when installing another plugin from the WordPress dashboard if the stock sync plugin was already installed.
Bulk Edit WooCommerce products from Google Sheets
Bulk editing in WooCommerce gives you the luxury of editing multiple products at once. It streamlines your workflow and saves countless hours of hard work as you get to make changes in bulk.
Imagine the scenario where a new shipment has arrived for some of your out-of-stock products. With the new bulk editor, you can select the stock status of all those products from the connected Google Sheets and change them in bulk. Within a few seconds, the changes will be reflected in your store!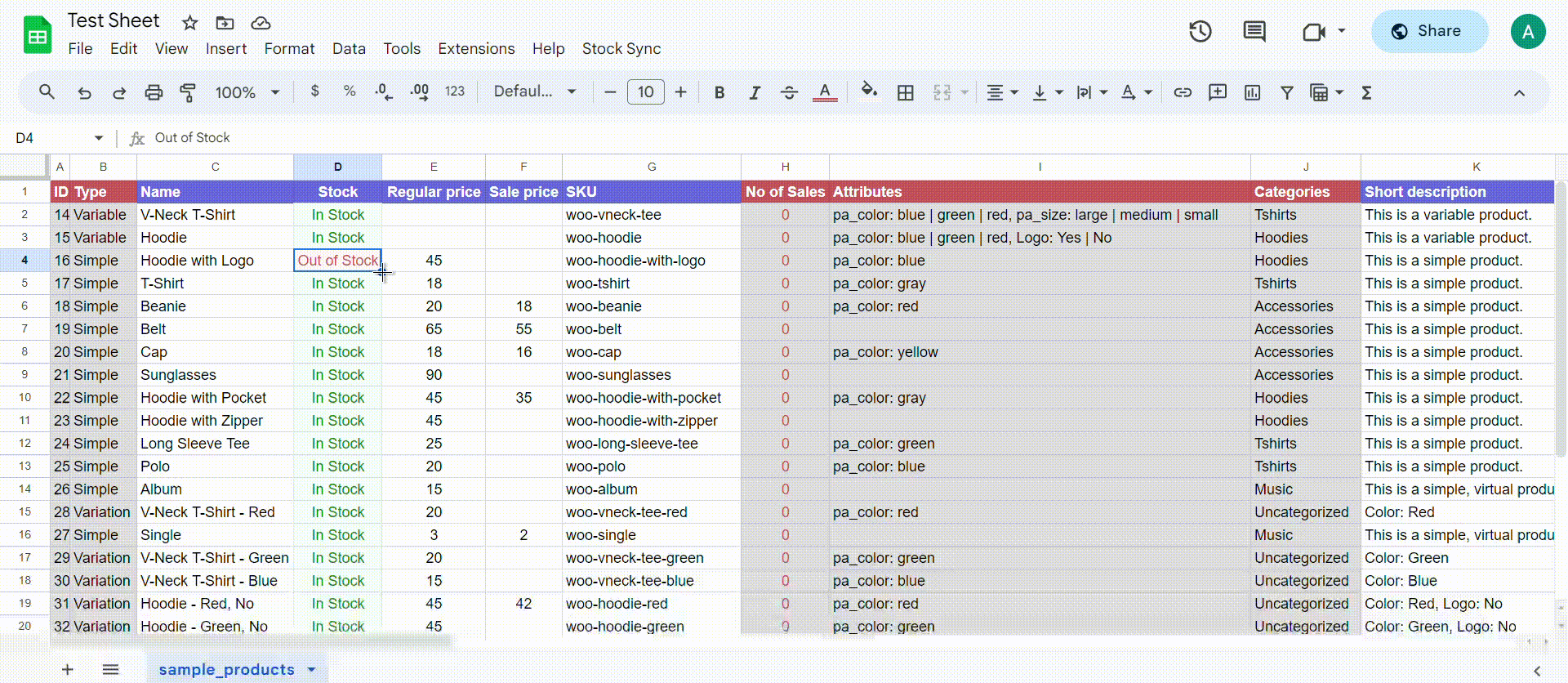 Every second is important in efficiently running your WooCommerce business. Our WooCommerce bulk edit plugin makes sure you get more work done with less time spent.
Currently, you can perform the following bulk edit operations from Google Sheets:
Bulk edit product stock: Bulk editing WooCommerce product stock can help you save time and streamline your workflow. It's a very powerful feature with numerous use cases. Whenever plenty of your products require a stock change, you can do it instantly from anywhere as long as you have access to your spreadsheet. Having a bulk edit plugin makes everything so easy!
Bulk edit product names: Change multiple product names on the go instead of updating them one by one from WordPress.
Bulk edit pricing: If you're running a sale and need to adjust the prices of a large amount of product, it can be tedious to do it manually. With WooCommerce Stock Sync you can select all the product that requires change and apply the pricing together, saving you hours of hard work.
Add new products in bulk (Ultimate): If you are running a large business and need to add new products regularly, this feature is a game changer for you. Effortlessly add thousands of products in the connected Google Sheets and they will be added to your store almost instantly!
Bulk edit custom fields (Ultimate): Custom fields are a way to give you more customization over your products. With bulk editing, you can now edit your additional product data (size, color, etc.) more easily.
Bonus: We recently had a discussion about our WooCommerce plugins with HostingAdvice. Check it to learn more about the ongoing development works at WPPOOL.
Sync & Edit More Products for Free
With v3.3, we're increasing the product sync limit from 20 to 100 for our free users. If you have a store with fewer products, you can now do a lot more with our free version.

Also, our bulk editing feature is available to both Free and Ultimate users to make sure you're getting the full experience regardless of your subscription status.
Quality of Life Changes
Alongside bulk editing and an increase in sync limitation, we also brought some quality-of-life changes to Stock Sync with Google Sheets.
Take a look at the changes that will make your life much easier:
Faster sheet reloading: In our prior version, when you made any change to your data, the entire sheet would reload and take a few seconds. With the new update, we've rebuilt our sync mechanism to ensure the sheet reloads instantly after you make a change.
Notice for Apps Script update: During the plugin setup, you used an Apps Script code in your connected spreadsheet. We occasionally update the Apps Script code to ensure it performs as expected and does not create any bugs. With the new update, you will now get a notice on the plugin's top bar when you need to update your Apps Script. The process is pretty simple and will only take a few seconds of your time.
Popup for non-editable columns: As you have already noticed some product data like SKU, total sales count, and product category are noneditable from Google Sheets. Now, whenever you make changes to such columns, you will get a popup showing that you cannot edit that column.
Loading notice: When you work with a large amount of products and make bulk changes it can take a few seconds for our script to sync and load your data. We've now added a notice at the bottom-right corner of your sheet to let you know when the script is running.
Wrapping Up
So there you go. Stock Sync with Google Sheets v3.3 is already live and ready to meet your WooCommerce bulk edit requirements. We are very proud to ship this feature and excited to learn about your experience with it.
If you have any feedback or suggestions regarding this release, please comment below and we will get back to you. Until next time, take care!