October is here! The spookiest holiday of this year 2022 has arrived!
Every year on the 31st of October, people come out dressed in different costumes and celebrate Halloween. It is one of the biggest festivals in the world. And people enjoy it with food, candies and of course costumes.
The WordPress industry takes part in this festival as well. However, instead of candies, the WordPress industry offers great deals and amazing sales.
So, here in WPPOOL, we thought we should spread some joy among our fellow WordPress users as well by arranging our own WPPOOL Halloween sale.
Yes, we are giving an amazing offer on your most prized product "WP Dark Mode" and our other products as well. So, read on and find out what surprises are waiting for you.
This year, we are launching our Halloween Campaign with total 5 of our products, with a duration of 13 days from 19 October 2022 to 31 October 2022.
We wish a very Happy spooky Halloween to all of our readers!
Table of Content
Halloween is the Starting Point of a Long Festive Season!
Yes, you heard it right. Halloween is only just the start. There are still some upcoming big festivals like Black Friday, Cyber Monday, Christmas, and of course New Year.
That is why Halloween is such an important festival for any kind of business. Because people start their long list of shopping that continues till the end of the year. And if your Halloween sale takes off then it's smooth sailing till the end of the year.
Just like other communities, the WordPress industry also gets ready with special deals and discounts. And most of the year, this sale starts from the start of October.
And, our WPPOOL Halloween sale is no less than amazing. You have probably heard of our revolutionary plugin, WP Dark Mode. And we have some other great plugins like Easy Video Reviews, Jitsi Meet, WP Table to Sheet, and Chat Widget for Multivendor marketplace.
Let's get you introduced to all of them so that you can fully understand how amazing our offer is.
WP Dark Mode: The Dark Plugin to Light Up Your Website
Black has always been the color of sadness. But not anymore. Times have changed. People now know that Batman is so much cooler. And the color black is cool and more vibrant.
That is why the craze of dark mode has been on the rise for quite some time now. All the biggies like YouTube, Twitter, Reddit, Facebook, and Google Chrome have launched dark mode features for their users.
Moreover, the users are loving it. So, if you are a website owner or a webmaster, you kind of wished you can give your website a cool dark look, didn't you?
The white screen interface for YouTube consumed about 40% screen energy whereas the dark mode consumed as low as 15%.
It is not only about the look, but the dark mode has other benefits like,
Pleasing to the eyes, and doesn't put stress
Increases traffic to your website
Decreases bounce rate, people will spend more time on your website
Saves energy
And more.
So, the WP Dark Mode can do all of that. Yes, it has features to give your website the perfect Dark Mode look that you have been wanting. The features include,
Time mode, switch back and forth any time you want
Various switch styles, add more flare to your website button game
OS color mode, if the OS-preferred theme is dark it will automatically show
Different color schema, it's not just black but you can customize the dark mode color and make your website way cooler
Elementor And Gutenberg are Supported, yes you can place the dark mode switch button on any page or post.
Dark Mode Switch in Menu
Dark Mode usage analytics
Background Image Change
WooCommerce specific features
Dark Mode Logo support
Remember Dark Mode
Custom Switch Icon
So, you can see how amazing the plugin is. You can view a small change to your website but you have no idea how big of an impact it will create.
Now if you are interested in trying out the premium features, then this is the best time. Remember we told you to keep on reading for surprises? well, here it is.
Purchase the WP Dark Mode Premium Plugin Now & Save Up to 78%!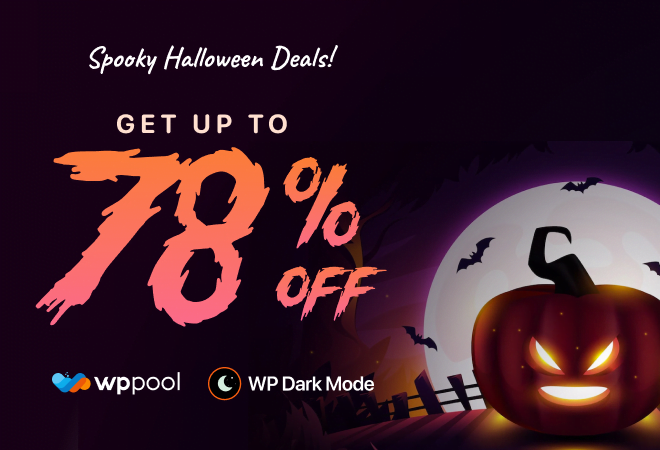 That's right. In our amazing Halloween deal, we are offering you a discount of up to 78% on our lifetime deals.
Basically, we have two types of packages.
Annual
Lifetime
That includes the Essential and the Complete Package. Now, normally we sell the Essential Annual package for $49 and the Complete Annual package for $99.
Now, if you purchase any of the packages this Halloween you can save up to 78%.
So, what are you waiting for? Go grab the WP Dark Mode premium plugin now. You don't have to apply any WP Dark Mode coupon as well. See, it is very easy.
Start date: 25th October
End date: 4th November
That's Not All…
Not only in WP Dark Mode, we are also giving some of the biggest discounts on our other products as well. Here they are,
Sheets to WP Table Live Sync
This WordPress table plugin will help WordPress users easily bring all the data from Google Spreadsheets to their WordPress site. It has features like,
Live data synchronization
Fetch up to 15 rows of Data
Search Bar
Asynchronous Loading
And more
You can get up to 78% discount on any of the premium packages of the Sheets to WP Table plugin.
Start date: 25th October
End date: 4th November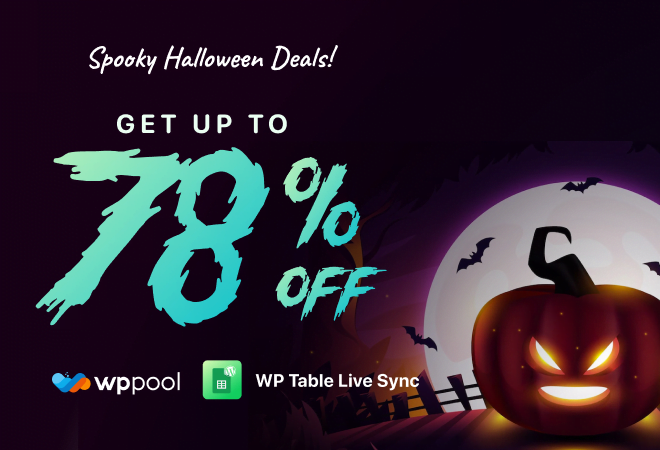 Easy Video Reviews
Easy Video Reviews replace traditional text reviews with next-generation video reviews to help your customers make decisions faster. With Easy Video Reviews, you can collect customers' live video reviews, or they can upload pre-recorded ones from anywhere on your website.
Manage Everything in the WordPress Dashboard
WooCommerce and Easy Digital Download Integration
Personalized Message on Recorder
Supports Mobile Devices and Low Bandwidth
Control video duration for customers
You know you can get unlimited videos for only $199 this Halloween!
This spooky Halloween season, get Easy Video Reviews at up to 74% OFF! That means you're saving about $553.15 on WordPress's most premium testimonial plugin.
Start date: 25th October
End date: 4th November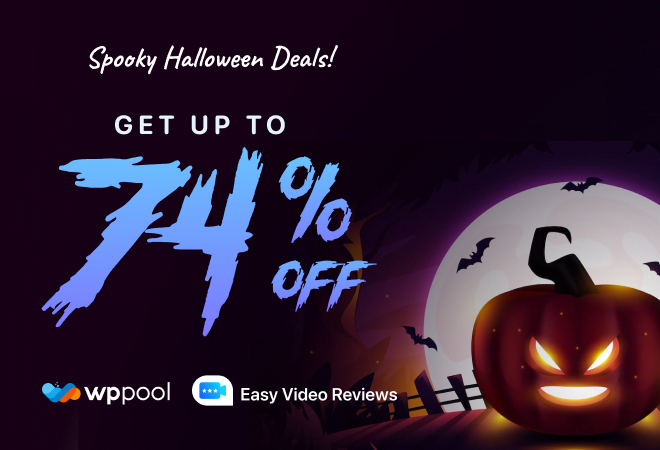 Chat Widgets compatible with Multi vendor Marketplaces
With this chat widget, you can give the best customer support and easily gain their trust. And when you can gain their trust, you can increase your sales and generate more leads. This chat widget will also help your support system become more flexible.
You can show up to 2 different chat channels at a time
Select triggers when the chat widget should appear. You can show it after a few seconds, on the page scroll, or use the exit intent trigger.
You will get different button designs
In the Pro version, you will be able to show all 19 channels.
Enjoy up to 80% discount on Chat Widgets this Halloween and increase your website conversion. The deal won't last forever, so claim before the offer runs out!
Start date: 25th October
End date: 4th November
Jitsi Meet
With the Jitsi Meet Video Conferencing plugin, you can create and host webinars, and video conferences with ease. It has features like,
You can render using a shortcode
Render using Gutenberg block
Easily customize width, height
Extended Global Settings
Extended local setting with shortcode and Gutenberg block
Meeting as a post On click shortcode on classic editor and integration with LMS support etc.
With Jitsi Meet's spooky Halloween deal, you can get up to 78% off every premium feature! This is a limited-time deal, so you need to hurry up!
Start date: 25th October
End date: 4th November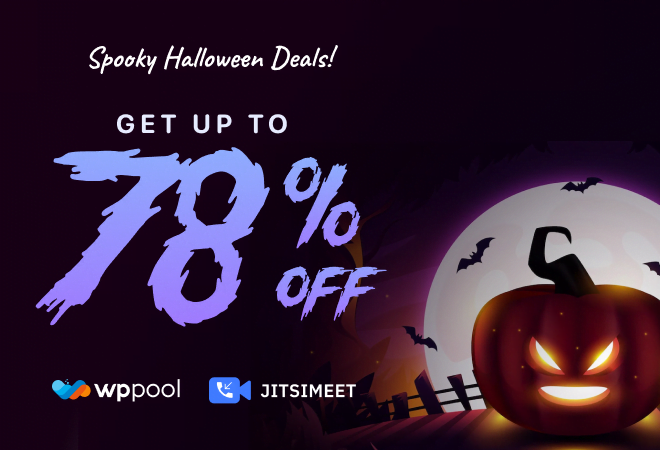 Social Contact Form
With Social Contact Form, send WordPress contact form leads directly to your WhatsApp account. This contact form plugin offers excellent flexibility in popup contact form customization, adding call-to-action text, merge tags, and preset messages. In addition, the premium version offers WhatsApp Web redirection for desktops, filtering and exporting contacts, access to lead and form data, and many other cool and useful features.
The Halloween deal offers up to 78% OFF to unlock all the powerful contact form features. Get now before the deal runs out.
Start date: 25th October
End date: 4th November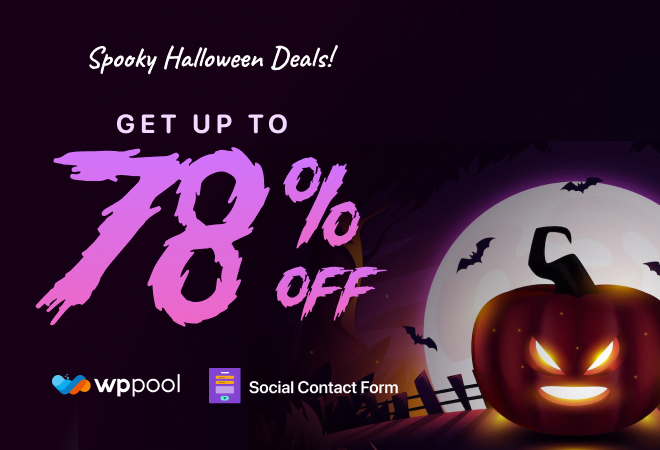 Stock Sync with Google Sheet for WooCommerce
Stock Sync for WooCommerce with Google Sheet – the fastest and most efficient WooCommerce inventory management plugin for WordPress. This plugin's powerful automatic two-directional stock sync feature allows you to edit your WooCommerce stock and other product data from anywhere with Google Sheets.
This Halloween, take your WooCommerce store to the next level with an unbeatable 80% OFF on Stock Sync for WooCommerce. Grab this deal now before the time runs out!
Start date: 25th October
End date: 4th November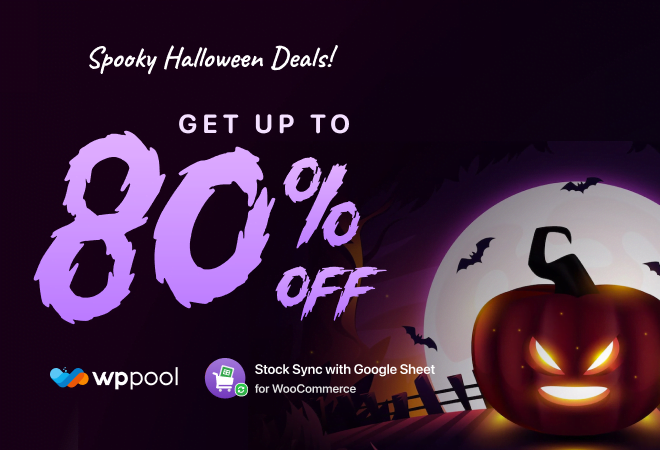 Elementor Speed Optimizer – Up to 78% off
Elementor Speed Optimizer speeds up any Elementor website by quite a mile. This plugin restricts Elementor assets from loading on any page or post. That means your website sections without Elementor will load faster than ever and it will boost your site speed immediately.
This Halloween, take your website to the next level with an unbeatable 78% OFF on Elementor Speed Optimizer. Grab this deal now before the time runs out!
Start date: 25th October
End date: 4th November
Stock Notifier for WooCommerce – Up to 80% Off
Back in Stock Notifier for WooCommerce enhances the functionality of your online store. It keeps track of your product's stock and sends instant WhatsApp messages as WhatsApp in-stock notifications to the customers.
This Halloween, take your website to the next level with an unbeatable 80% OFF on this amazing plugin. Grab this deal now before the time runs out!
Start date: 25th October
End date: 4th November
Conclusion
If you are looking to add more flare to your website then you must pick the WP Dark Mode plugin. And this is the right time to purchase because you are getting the amazing WPPOOL Halloween deal!
There may be thousands of offers floating around the web right now. But don't get swayed away by all the offers. Keep your calm and pick the right ones.