As a writer, anyone would like to write faster, better, and more efficiently. From HTML, note-taking apps, to-do list apps, and email, Markdown has made its "mark" pretty much everywhere.
Intrigued? Let's not waste any more time chit-chatting and getting straight into the amazing world of Markdown and the benefits of using Markdown Editor.
Markdown can be defined as plain text formatting syntax used to write content on the web. It's commonly used by writers and programmers to write quickly without having to take time using the formatting toolbar of text editors.
In other words, Markdown is a quick and easy way to format plain text using special characters like asterisks, dashes, underscores, etc. Markdown enables you to create headers, lists, code blocks and more without lifting your fingers off your keyboard.
Its sheer simplicity and minimalist approach to writing and formatting is the reason why Markdown has grown in popularity over the years, especially amongst writers and publishers.
Today's technical writing encompasses all documentation of complex technical processes. This includes reports, executive summary statements, briefs. Any time technical information is conveyed in writing at work, it is, by definition, technical writing.
And using the markdown editor, technical writing can be done more easily. So, we are going to discuss some benefits of using Markdown Editor for technical writing.
Benefits of using Markdown editor
As a result of its simplicity, Markdown quickly became very popular among web writers.
Interestingly, it experienced a surge in popularity among technical writers around 2016. Some people were very excited about Markdown, while others — not so much.
Many technical writers find lots of benefits of using Markdown Editor for their documentation. Some of these benefits are:
Markdown provides semantic meaning for content in a relatively simple way
You can write rich formatted content extremely quickly (compared to writing directly in HTML tags)
You can read Markdown easily in plain text before rendered by HTML
It doesn't interrupt your workflow with the need to click buttons
It's platform-agnostic so your content is not tied to the format of your editor
Markdown is also lightweight, which means you don't have to learn a lot to get started with it.
Lots of product documentation is written in Markdown because it is so versatile, and it can usually be transferred between different platforms. For example, you can write in Markdown in a text editor like Atom, or even a version-control platform such as GitHub since that also supports Markdown.
Markdown is lightweight editor and you don't have to learn to get started with it.
WordPress is famous for its resources. You will find a solution to any problem online. That is because there are many technical content writers who write for the betterment of the users.
And for them we have a surprise along with benefits of using Markdown Editor. WP Markdown Editor. Yes, it the perfect WordPress plugin for the WordPress technical writers to write their documentation more freely. Want to know more about it? Let's go.
Features of the WP Markdown Editor!
In this WP Markdown Editor review, we are going to dig deep into the features of this plugin. It is a kind of plugin that may help your reignite your passion for writing.
Because we all know when you are writing, you are not just putting words together, you are creating an art.
So, you get features in the WP Markdown Editor like,
Color schema, Ready-made
Another benefits of using Markdown Editor, We all like a little bit of color in our lives. So, why not add a bit of a color when we are writing. That's exactly what you will get while using the WP Markdown Editor.
You have the luxury to quickly choose your favorite color. As this plugin has ready-made color schema available. So, you can easily highlight and edit your content the way you want. What more do you want?
You will find lot's of emojis
In this era of Facebook, Instagram, WhatsApp, Twitter people tend to express their emotions through emojis rather than words. They feel they can talk more by using different kinds of emojis in their articles and writing.
Now, the default WordPress editor doesn't let you use emojis at will. You need to use some tricks. Why go to such lengths to use some emojis in your writing?
The WP Markdown Editor lets you use any kind of emojis. You can make your content more interactive and attractive with emojis. This plugin supports all types of emojis in your write up.
Syntax shortcuts
When we are writing, we like to keep our hands on the Keyboard as much as possible. That way we can focus more on our writing. However, when we try to edit and format that's a tough time.
Because we have to use the mouse/mousepad more and more. That's irritating to go back and forth in using the mouse.
That is why a Markdown cheat sheet is available for you which shows other keyboard shortcuts for heading, formatting, and the interface. Now, you can do all your work from the keyboard.
Custom-made colors!
As we said earlier, we all like a little bit of color in our lives. However, when we use the WordPress editor, it is all white in the background. It could become monotonous at one point to write in the same backdrop every time.
With the WP Markdown Editor, you can customize the background text and color as you want with the custom color feature. Now, you can easily pick the color schema of your preference and make it yours!
Typography, edit your fonts
To give more variety to our blogs and articles, we use all kinds of fonts. With the WP Markdown Editor you can change the typography of your editor screen, using four different fonts, and controls for font size, line height, line width, and paragraph spacing.
That's not all, you will get more amazing features like,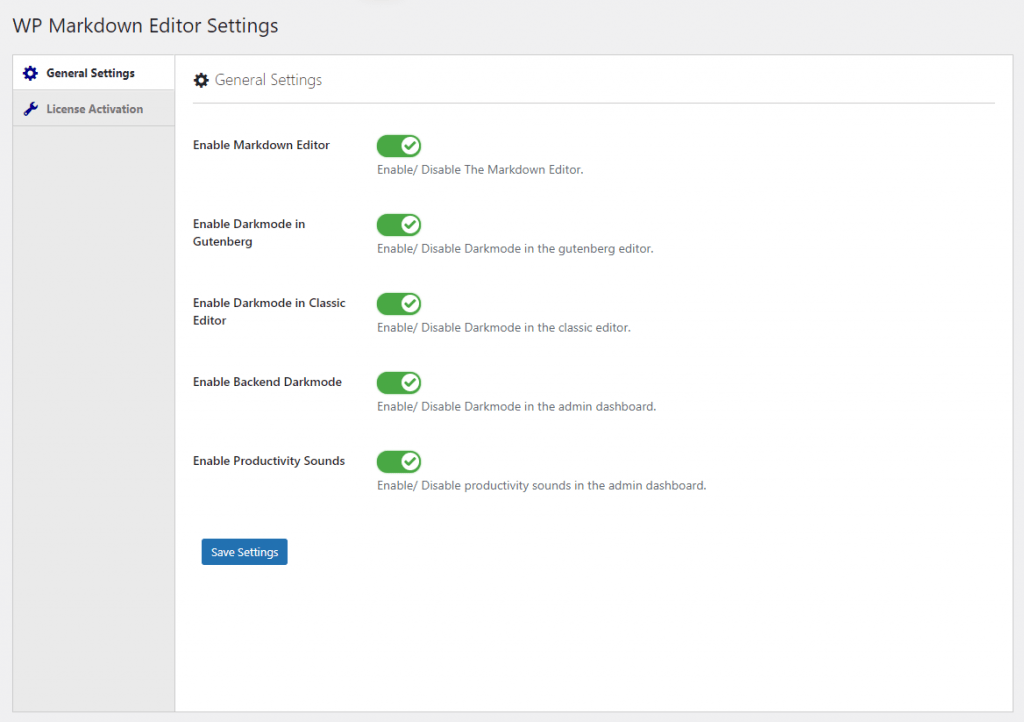 Write post/page with markdown syntax
Syntax shortcut
Copy all content as markdown
Table of contents
One-click Dark Mode on the dashboard
Fast and easy to use.
So, you can see what amazing features this plugin is offering through this WP Markdown Editor review.
Conclusion
Technical writing is a very illustrious job and they need the most subtle environment to write. And a Markdown Editor or a plugin certainly does the job.
When you have a plugin like WP Markdown Editor at your disposal then writing without any distractions is very easy. So, what are you waiting for, grab your copy now!