After the recent COVID-19 pandemic, there has been a huge surge in webinar trends. According to Wyzowl, the use of webinars for marketing purposes had increased by 15% just in 2020. Webinars are now taking place for some physical events and training.
Webinars are now much more attractive to organizers due to their cost-effectiveness and ease of organizing. It can also be a highly influential marketing tactic. 89% of marketers think webinars are more effective than any other marketing channel. No doubt webinars are important today for your brand and business.
73% of B2B companies believe webinars are the best way to generate high-quality leads

source: GoTo 1
So, hosting webinars can be proven beneficial for your brand and business. If you are a WordPress user, you are in the right place. Today we will guide you through 5 of the best WordPress webinar plugins that can help you benefit from this webinar trend.
Table of Contents
About the WordPress webinar plugins
WordPress webinar plugins are tools that allow website owners to seamlessly integrate webinar functionality into their WordPress websites. With this plugin, you can easily create, manage, and promote webinars, enabling you to connect with your audience in a more engaging and interactive way.
An ideal webinar plugin should offer a user-friendly interface, making it simple for both beginners and experienced users to set up and customize their webinars and also easy enough for attendees to guide through the functionality in first use.
You can schedule webinars, send automated reminders to participants, and even host live Q&A sessions during the events.
The plugin may also provide various features to enhance the webinar experience, such as screen sharing, chat functionality, and audience polling. Additionally, it may offer analytics and reporting capabilities, allowing you to track attendance, participant engagement, and overall performance.
With the WordPress Webinar plugin, you can take your online presentations and training sessions to the next level, creating a dynamic and immersive experience for your audience.
How should WordPress webinar plugins help You?
In the post-pandemic world, the World Wide Web and video conferencing programming as a Software as a Service (SaaS) market has been encountering record development. Such an increment has been powered by need, however, this is probably going to be a getting-through technique for correspondence.
Setting up a video conference or webinar on your site can be an extraordinary method for changing client commitment and fostering your relationship with clients across the globe. Further developing the client experience on WordPress effortlessly through webinars direct from your site can see your business surpass its correspondence targets.
Whenever utilized as a client care device, video is considered more noteworthy adaptability in answering buyer questions and can be a place of separation between your business and rivals.
As an approach to speaking with partners, it can assist you with coordinating gatherings at the hint of a button and keep your labor force informed rapidly when time-delicate business choices are important.
Why it is important to choose suitable WordPress webinar plugins
It's important to a plugin that is most suitable for your website to avail yourself of its full benefits. Using each application can provide different advantages for your business. For example, a webinar plugin that incorporates instant messaging might be more beneficial if your business targets a younger audience.
This third-party video conferencing software is able to support your business flexibly as the resource can be accessed via WordPress from any location, provided you have logged in as an admin.
They are, therefore, a convenient way of incorporating platform as a service (PaaS) or cloud computing solutions into your online infrastructure. Offering subscription-based access to visual voicemail and internet phone calls, plugins can offer your business the mobility and customizability traditional hardware lacks.
The best WordPress webinar plugins
Each WordPress video conference plugin provides a different user experience, so it's critical to choose the one that best caters to your business needs. Here's a list of the best video conferencing plugins to consider for your WordPress site: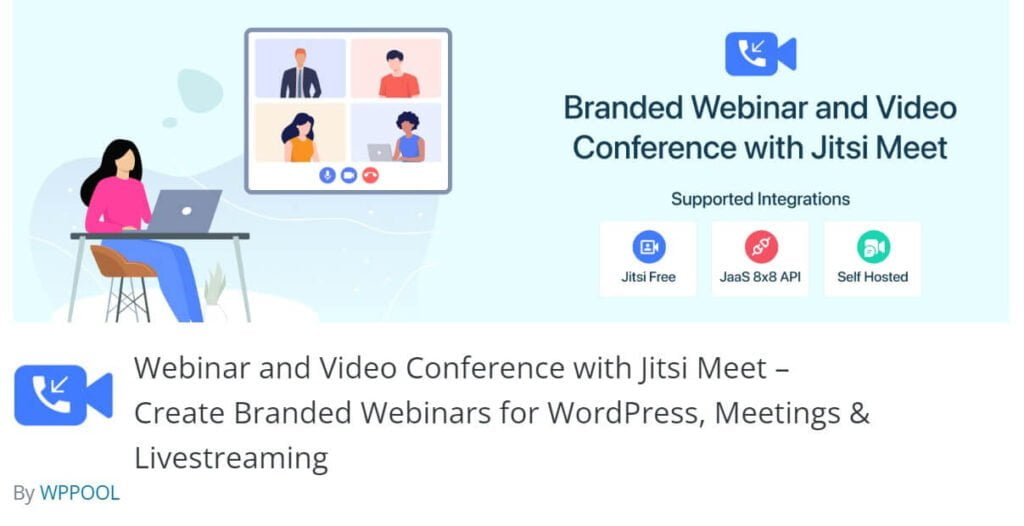 Jitsi Meet's built-in meeting post type, shortcodes, Elementor widgets, and Gutenberg blocks let you create WordPress meetings without any technical or coding knowledge.
The plugin is fully integrated with WooCommerce, LMS, Multi vendors, email marketing, and booking plugins. This is the most powerful and convenient WordPress video webinar plugin with zero coding.
Features:
Meeting Gutenberg block
Meeting Elementor widget
LMS integration
Multivendor Addons for easily selling webinars, online classes, etc.
Meeting Shortcode
Screen sharing
Unlimited meetings
Multisite compatibility
Custom domain
Livestream, recording, and transcript
Calendar integration
Meeting registration
Recurring meeting.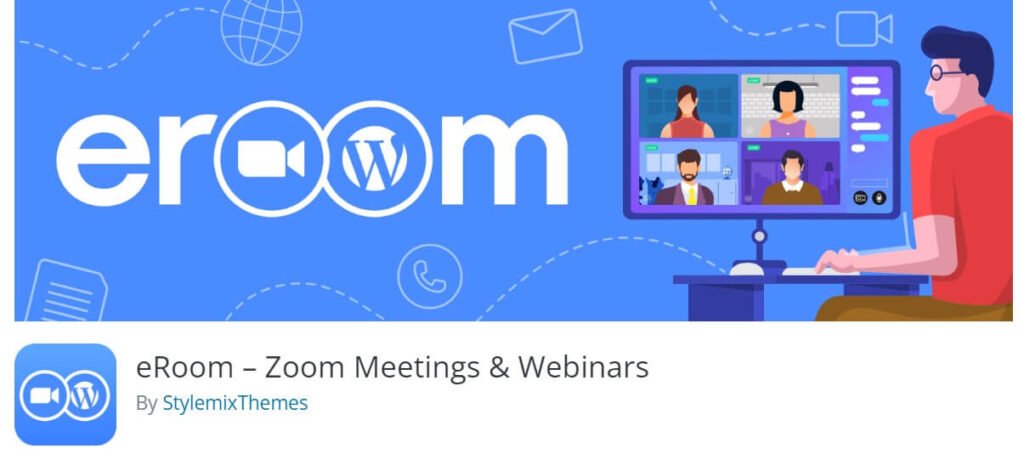 eRoom considers direct coordination with video conferencing arrangements. It allows clients to start video calls and timetable occasions straightforwardly from the WordPress dashboard.
Adding this plugin will empower you to begin gatherings directly from any site page, and you could in fact show a commencement to the beginning of a gathering. This component might be especially advantageous assuming individuals from your outreach group are joining from various time regions.
Online course members can join virtual talks of up to 10,000 individuals, and occasion tickets can be sold as WooCommerce items. This makes eRoom an especially convenient choice for organizations that sell administrations or instructive foundations.
The plugin is basic and simple to explore and is accessible free of charge assuming that you introduce the light variant.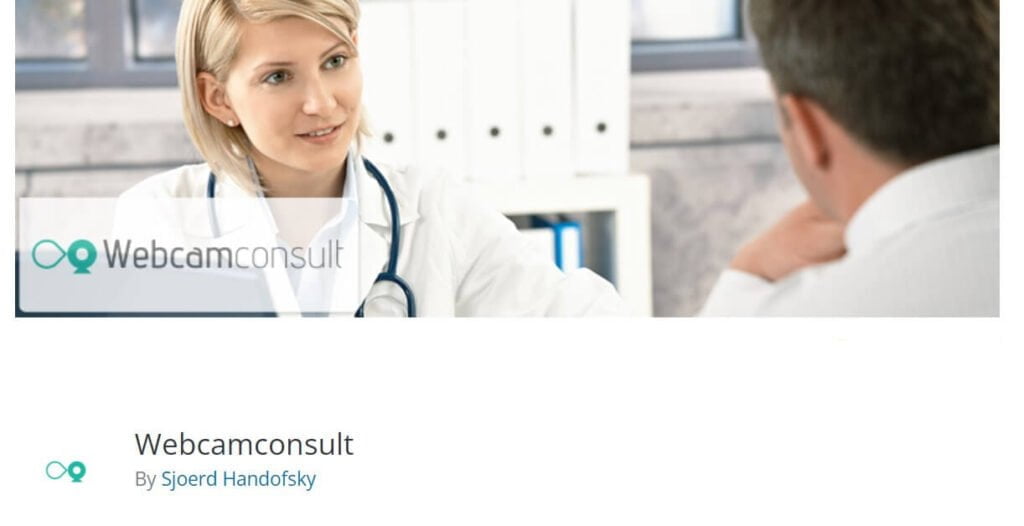 Webcamconsult is among the WordPress webinar plugins that target medical practitioners, but it's suitable for use by any business requiring real-time customer interaction. The service is straightforward to use once integrated into your WordPress site. Only one button needs to be pressed to initiate a face-to-face video chat.
It also provides a pop-up chatbox to address client needs in an instant. Providing such an immediate service to customers is likely to draw them to your website and thus increase your blog traffic.
Webcamconsult may also be adopted by your business as part of its recruitment process. You can book and schedule interviews within the plugin, and it's possible to set a limit of time slots per hour for a given timetable.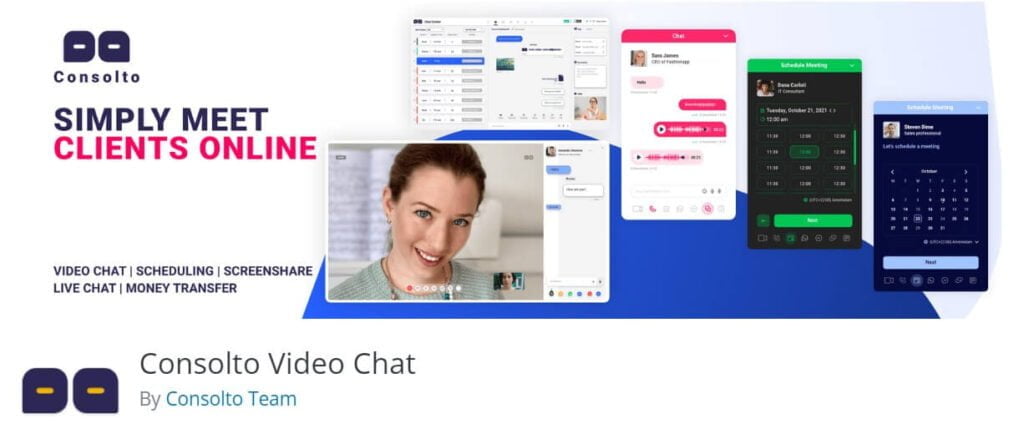 In the event that your need is to utilize video conferencing devices for inside correspondences with partners or representatives, Consolto markets itself as a 'virtual office'. In addition to the fact that it considers video joining, it likewise offers the capacity to implant online entertainment couriers straightforwardly into your WordPress webpage.
Voice messages can be instrumental, both for partners and clients. Likewise, the assistance considers warning of messages to be shipped off your email, so you're less inclined to miss dire interchanges.
Consolto also supports 12 languages, which could make it an important resource for global organizations.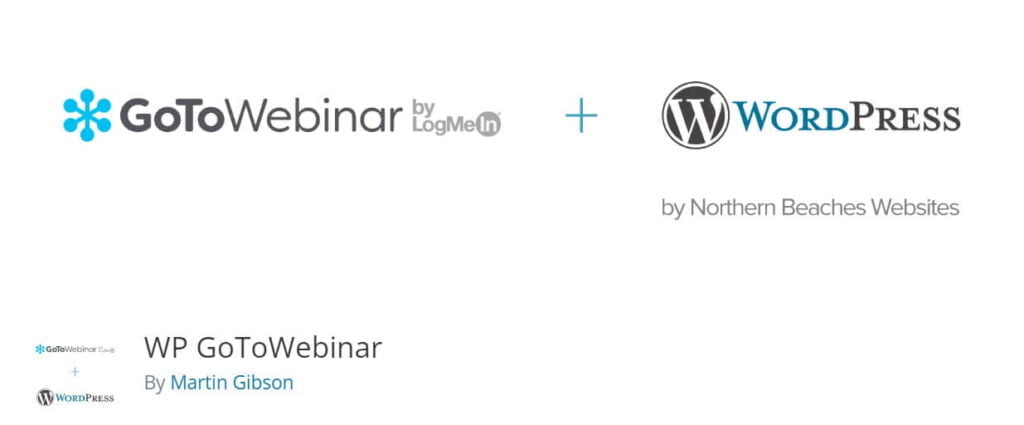 WP GoToWebinar can be another option to consider if you are looking for easy access to host webinars on your WordPress site.
This plugin allows you to show your upcoming webinars from your GoToWebinar account. It has shortcode functionality which gives you freedom to show the webinar wherever you want on your site.
Moreover, these webinars can be shown as a calendar or form format using shortcodes. The plugin also allows user to convert the dates and times of forthcoming webinars and registration forms into their own local timezone. Additionally, Google's reCaptcha functionality lessens spam registrations.
Conclusion
With so many WordPress webinar plugins available, video conferencing or arranging webinars have become significantly accessible. With the increasing trend of online video calls, the space is now flooded with plugins and software in this field. So, it is important to find a suitable option for your business that will help you to interact easily and expediently with colleagues and customers.
Addressing consumer queries instantly can significantly impact your business's revenue, and improve customer satisfaction and, therefore, loyalty. As a tool for internal communication, it can improve the efficiency of your organization and keep your sales team united in their strategy and targets.
FAQ
Can I host webinars directly from my site?
Yes. If your website is built on WordPress there are many plugins like Jitsi Meet which help you to host a webinar or video conference directly from your WordPress site.
Can I place webinars or virtual meetings anywhere on my site?
Yes, you can. Plugins like Jitsi Meet provide a shortcode for your meeting. Using that shortcode you can show the meeting anywhere on your website.
Are webinars or virtual conferences good for my business?
73% of B2B companies believe webinars are the best way to generate high-quality leads. These webinars can be a great tool to familiarize your brand with the mass audience on the internet. After the recent pandemic, there has been a steady surge in online events. People are adopting virtual events like these webinars more and more. So, yeah. Webinars or video conferencing can be a great way to promote your business.