Customer review has been a powerful tool being used by businesses for years to convince prospective users to convert them into customers. If you own a business, you want more sales and exposure to your products, right? Your customers seek social proof, trust, and peace of mind when purchasing your product.
How can you solve this? Thinking? 🤔
Introducing Easy Video Reviews – the simplest and easiest video testimonial plugin for WordPress.
We replaced the traditional text reviews with next-generation video reviews to help your customers make decisions faster. Video reviews are hard to fake and have more impact on customers' buying decisions.
With Easy Video Reviews, you can collect customers' live video reviews, or they can upload pre-recorded ones from anywhere on your website. Display those reviews anywhere with the help of Shortcode, Gutenberg block, Elementor Widgets, or using HTML attr in a variety of ways, i.e., slider, carousel, grid, etc.
Interesting? Let's dive in more on how this best WordPress video review plugin can grow your business.
Table of Content
Importance of Video Reviews for Your Business
When you write, you can write anything. Without stats or facts, those texts don't create enough trust in the customer's mind.
So, what should you do to create that trust? Testimonials from your users. When users see that customers are saying nice things about your product and they put their faith in your product, then they will get that social proof they need and will buy that product from you.
Save customers burning calories! Customers tune you out when they are required to burning more calories to digest your product info. Videos deliver more information. Help customers at burning few more calories.
Video and mobile go hand in hand. Mobile video views have increased by 400% in the last few years. People tend to give1.4X attention to mobile videos. Video content quickly engages visitors and ignites their emotions results in 1200% more shares than text and images.
The Easy Video Reviews plugin replaces traditional text reviews with next-generation video reviews to help your customers make decisions faster. As you know, videos are not easy to fake, and it creates a great impact on customers decision making.
And as we said, this video review plugin is compatible WooCommerce and Easy Digital Download; this plugin makes it easy for you to collect video reviews. Your customers can record and send video testimonials right from their browser using any device.
You can boost your sales by 62% using Video Reviews.
Easy Video Reviews Plugin Features
With WordPress entering its 18th year, it is a great time to be on the market for WordPress Video Testimonial plugins. Easy Video Reviews plugin will help you create video testimonials that will create trust and also help your customers focus on the main point.
Along with being one of the most flexible testimonial plugins, Video Testimonial plugin WordPress has other features like:
👉 Easy Installation Process
There is no complicated process. Just like any other WordPress plugin, you can easily download and install this plugin. It's like a plug-in and play. Yes, it is that simple.
👉 You Don't Need to Be a Pro
Although WordPress lets you create anything without having to write code, there are some plugins that are complicated to use and often require customization to be able to use it. This is not the case with the Easy Video Reviews plugin.
You don't need any coding knowledge to use this plugin. All you need is basic WordPress knowledge, and you can use this plugin fully. That means any beginner-level WordPress user can use this plugin.
👉 Manage Everything in the WordPress Dashboard
Collect and display video reviews without leaving your WordPress website. Let your customers record and submit new video records or let them upload a pre-recorded one with a single button using Shortcode, Elementor widget, Gutenberg block, or HTML attr. You have full control over all settings, and you can hide/show any videos from the frontend.
You can manage everything, including testimonials, subscriptions inside WordPress (in-site payment), without leaving the plugin anytime. How cool is that!
That will make your job very easy and less complicated.
👉 WooCommerce and Easy Digital Download Integration
Easy Video Reviews is fully compatible with WooCommerce and Easy Digital Downloads plugins. Record and display reviews for each product, sort by tags, hide, etc. You have full control over it.
👉 Personalized Message on Recorder
This is an interesting feature. When you are using this social proof WordPress plugin, you will get a video recording pop-up. In that pop-up, you can set a custom message as a footer, header, and most of all, as a title.
This will help you convey any information or any promotional part through this video testimonial plugin for WordPress.
👉 Supports Mobile Devices and Low Bandwidth
There are many places on this earth where the network is weak, and the internet speed is slow. How do the people from those areas use this plugin?
Don't worry. The Easy Video Reviews plugin will help the user record a video even at a low internet speed. Moreover, you can use any device as well.
Also, when clients come to record, they can choose their own choice of selecting specific I/O devices before recording. That's great, right. It gives the client more flexibility.
👉 Preview Video Before Sending
A lot of the time, when we are recording video, we make some mistakes that we overlook. That is why we have kept the preview option. With the preview option, when a user completes the video recording, he/she can view the video before submitting it.
That way, if they made any mistake or said something that they didn't want to, they can go back and fix it. This is one of the core features of the Easy Video Reviews plugin.
🥤Other features include
👉 You can prompt users if there is any publishing policy.
👉 Import & Export settings are a matter of a click!
👉 Upgrade your download plan anytime right from the dashboard through Stripe payment
👉 Control video duration for customers
👉 Translate in your language
👉 Ability to add custom fields in the pop-up recorder
👉 Recorder button styles
👉 Much more exciting features are coming ….
Getting Started with Easy Video Review Plugin for WordPress
Install the WordPress Video Testimonial Plugin
Just like any other WordPress plugin, you can easily download and install this WordPress Testimonial plugin from the WordPress repository. Or you can navigate to WP Admin–> Plugins–> Add New and type Easy Video Reviews Plugin. Download and activate the plugin.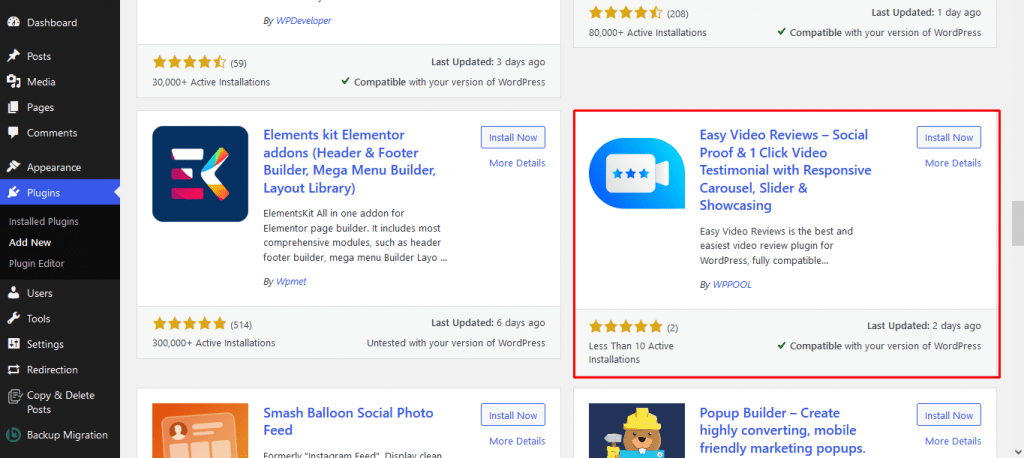 After installing the plugin, go to WP Admin–> Easy Video Reviews, and you can view the plugin dashboard. In the Testimonials section, you will find all the recorded and uploaded testimonials. This plugin also has a search option.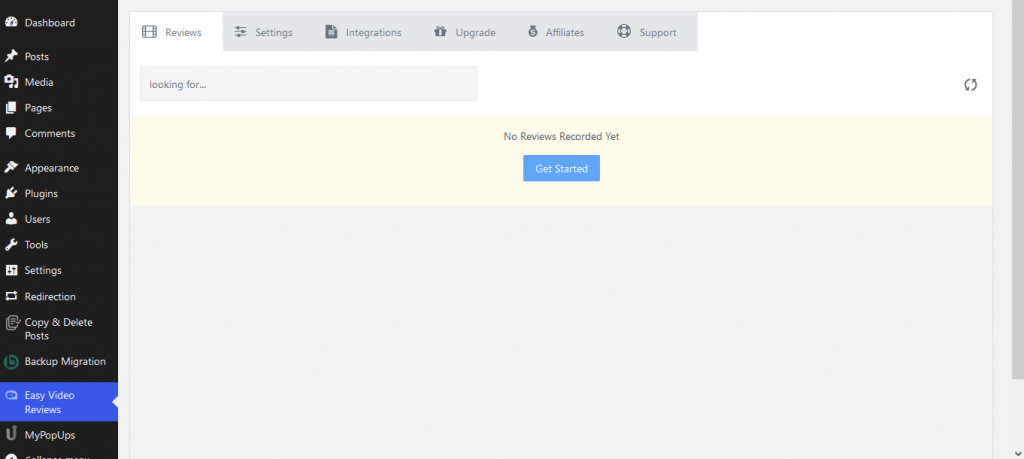 Display Recorder Button
Using Shortcode: We have added shortcodes so that you can view the Easy Video Reviews Plugin's recorder button on any page you like. You can find the details here.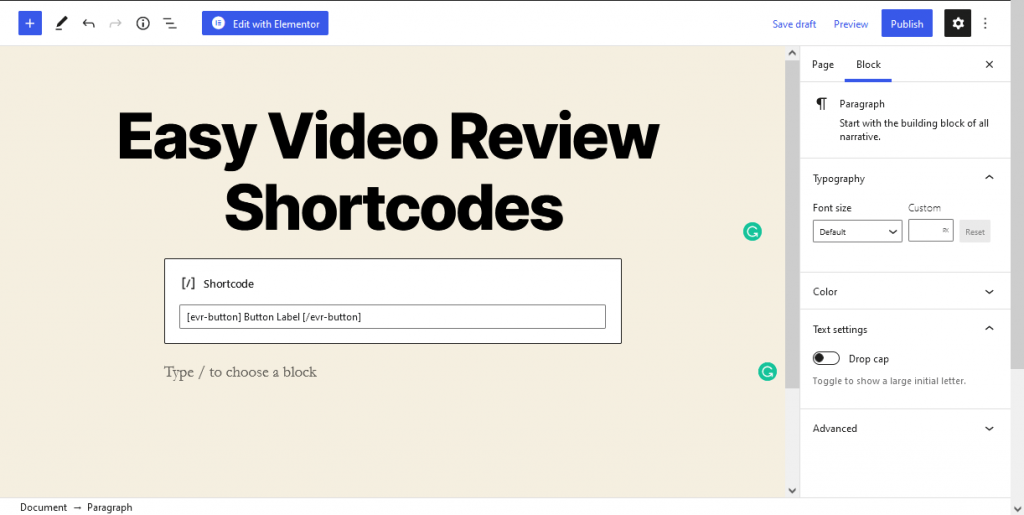 Using Gutenberg Block: Not only shortcodes, but for this WordPress video testimonial plugin, we have created a gutenberg block, so that you can add the review button in the middle of your blog post as well.
Using Elementor Widget: If anyone has designed their website using Elementor, then for them we have created a Elementor widget for Easy Video Reviews plugin. So that the placement and the design of the button doesn't conflict with your whole website design.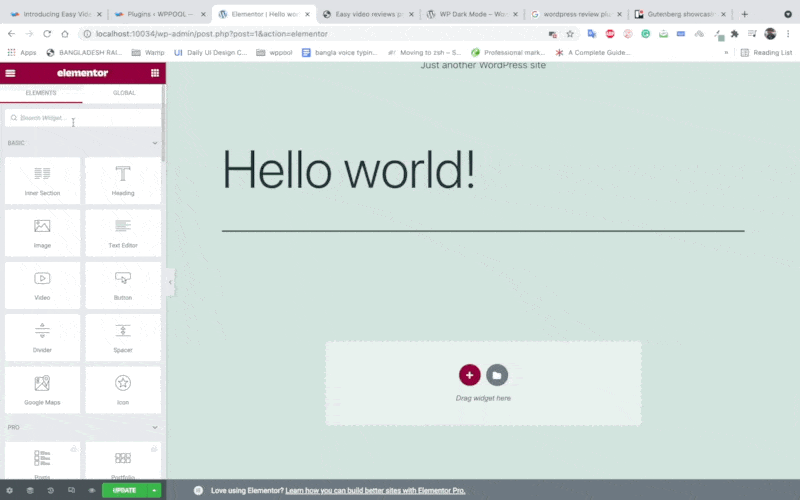 Using HTML Attribute: Put the "data-evr-button" HTML attribute inside your element to open the recorder on click. You can simply attach a tag inside the attribute as an attribute value for categorizing testimonials.
Showcasing Video Reviews
1. Using Shortcode: Well, we have created shortcodes so that you can display your video reviews in the most fashionable way. Here is the shortcode you need to use to showcase your videos,
[evr-videos]
If you want to learn more about the shortcode attributes, then click here.
2. Using Gutenberg Block: Just like the recorder button, we have created a Gutenberg block for showcasing the video testimonials you have collected as well.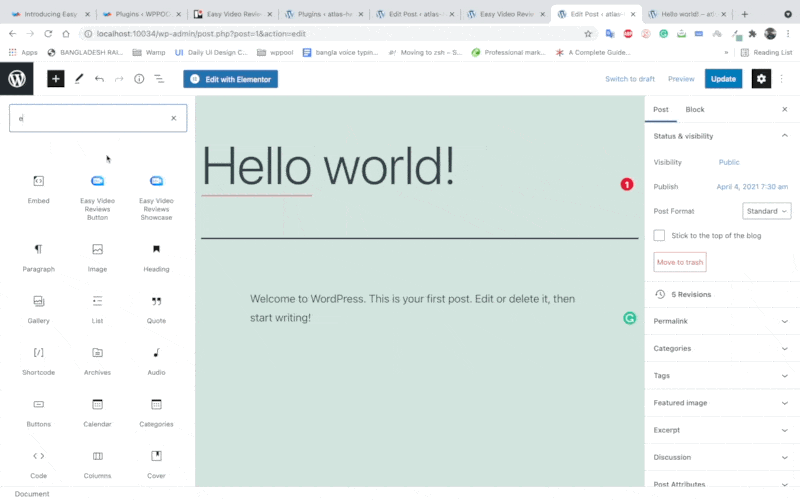 3. Using Elementor Widget: And last but not least, we have a Elementor widget in this video testimonial plugin for WordPress that will help you showcase all of your video testimonials.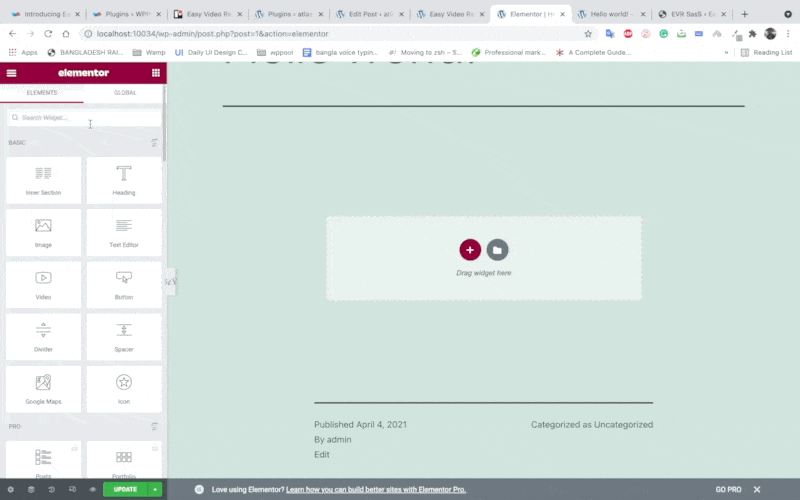 Settings
When you click on the Settings section, you will find some options to customize this WordPress video testimonial plugin. You can update your profile name, change your password, update your company name, etc.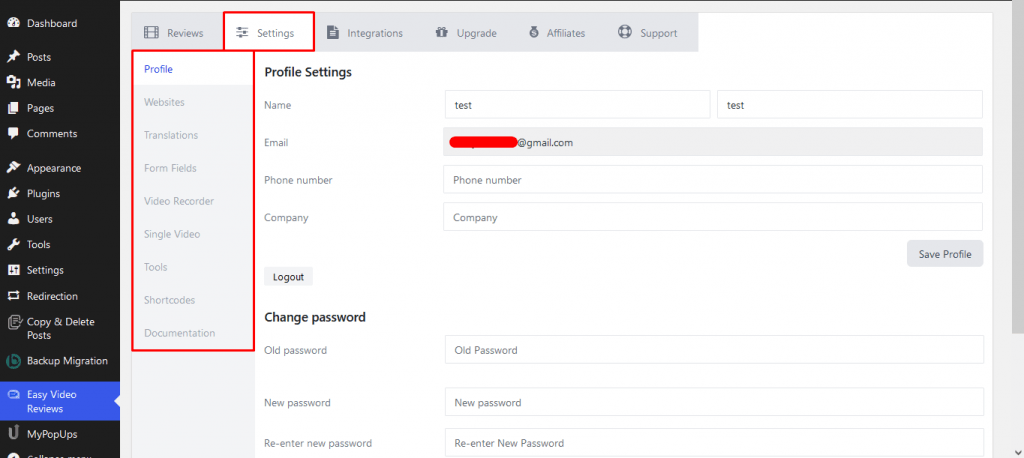 Websites
You can view which websites are connected to your site and is active or not.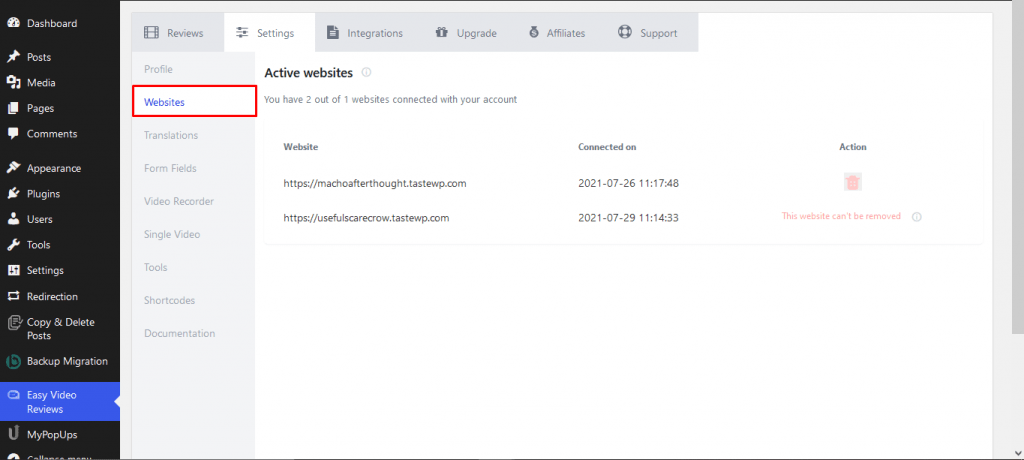 Translations
You will find the Keywords and their translations here. But remember, it is a pro feature.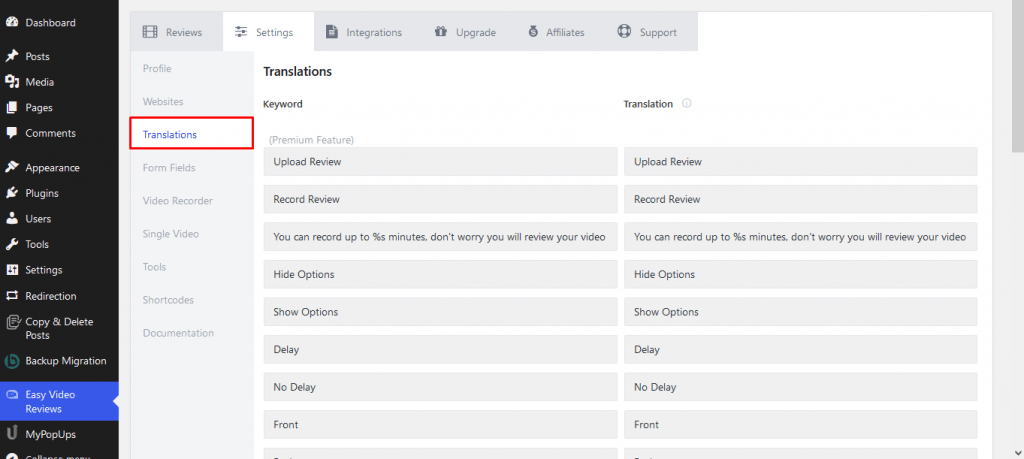 Form Fields
Another pro feature. You can add customized form fields inside the recorder. You can create the form here. Just click on the Add Field button, and you will be able to create a form.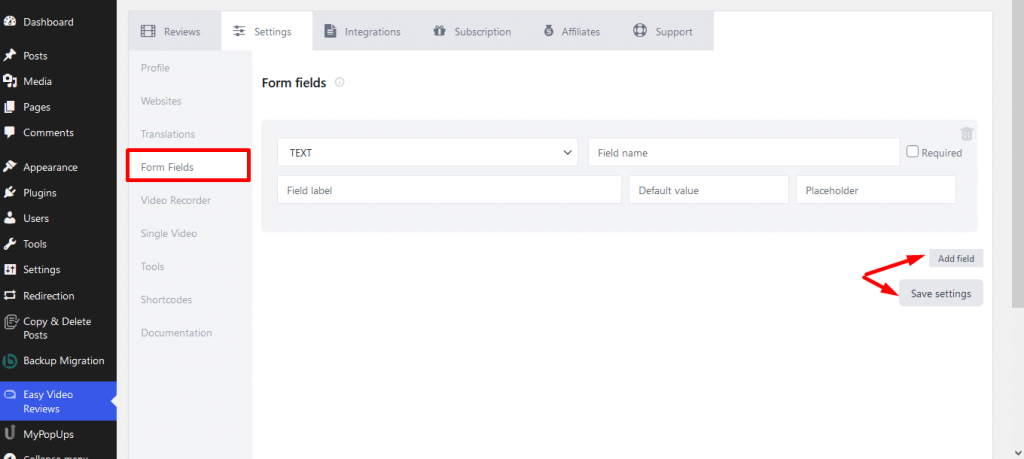 Video Recorder
Here you can customize the video recorder. First, you can decide the time limit of the recording. Then choose the delay time. That means, after clicking the recording button, how much time it will take to start recording.
Also, you can enable your preferences, like if a user can upload a video, or if you want to show the customized form inside the recorder, etc. Select the page you want to add the Video Testimonial.
Lastly, you will have the option to redesign the button, including button text, color, alignment.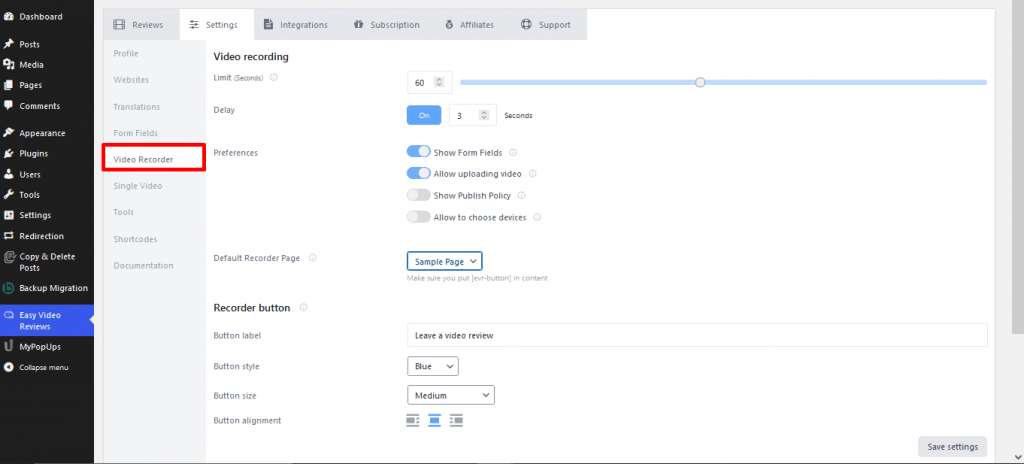 Integrations
You will have options to integrate WooCommerce and Easy Digital Downloads in the pro version.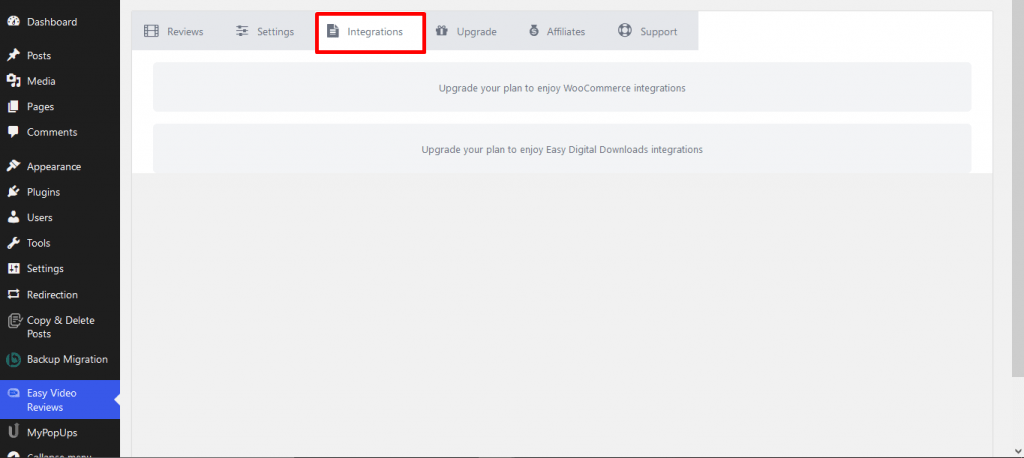 Single Video Page
You can edit the single video page from the Single Video Page option. You can select the Page Title, Page Description, Page slug, etc.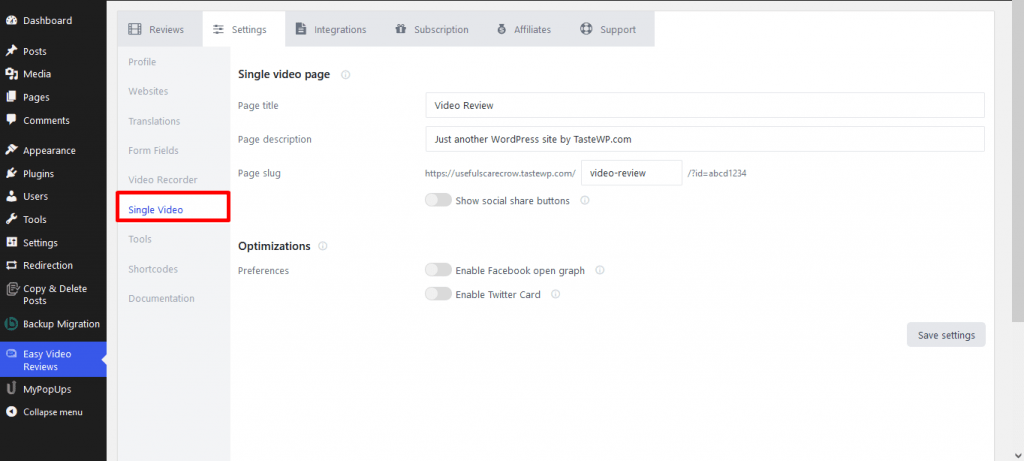 Tools
You can import, export, and also reset the whole settings from here. So, it's easy to move settings through websites.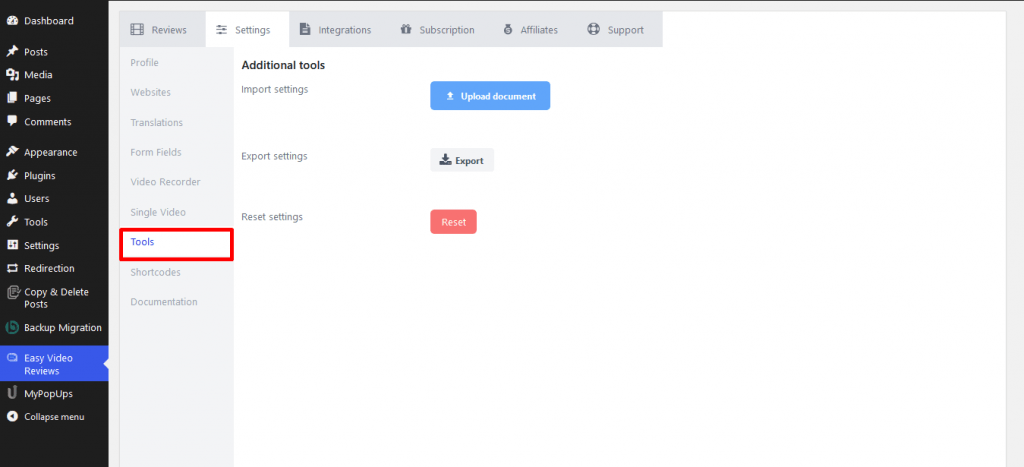 Shortcode Generator
You can copy all the shortcodes from this section. You can customize the settings and the shortcode will be generated accordingly. For Recording video,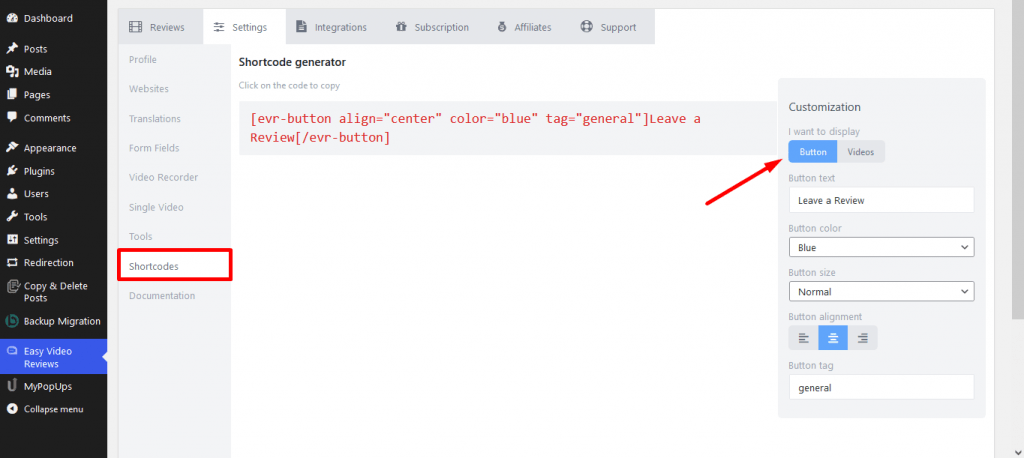 And for showcasing video testimonials,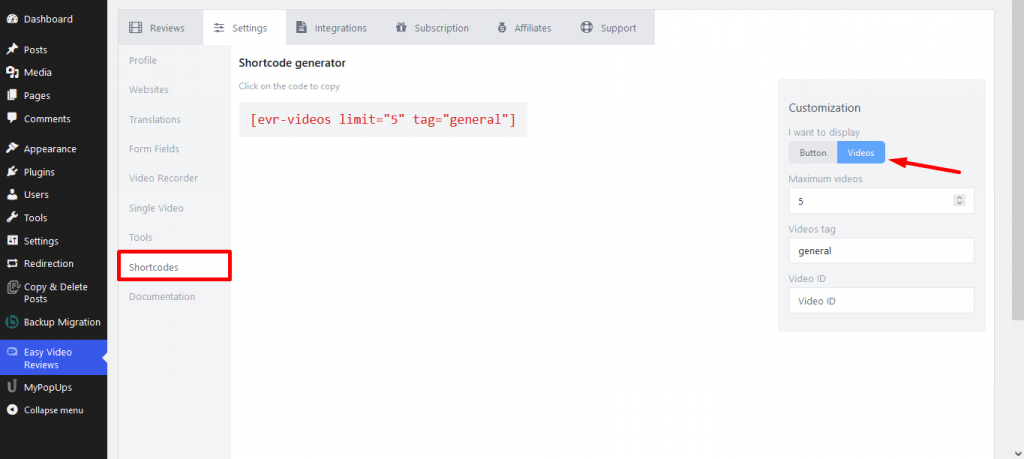 Record a Testimonial
To record a testimonial, go to the selected page and click on the Leave a video review button.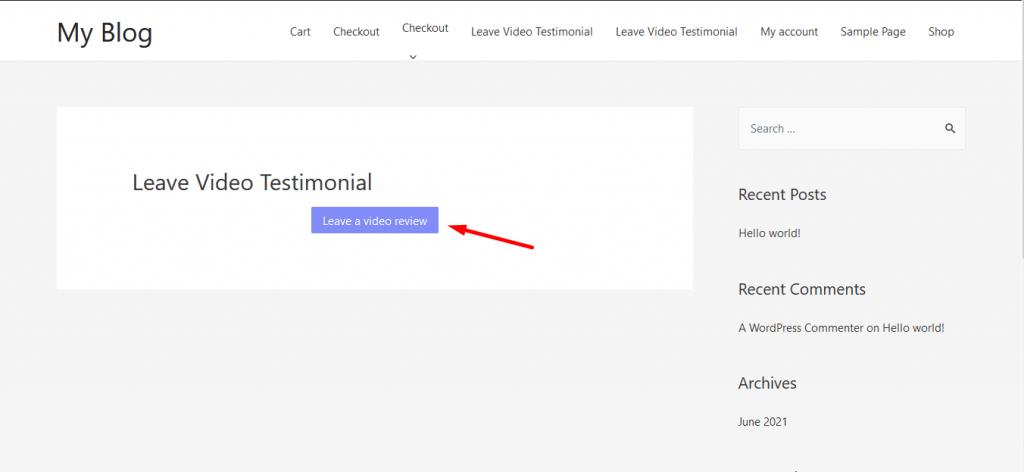 You will get a pop-up window. But before that, you need to allow your browser to use the Microphone and Camera of your device.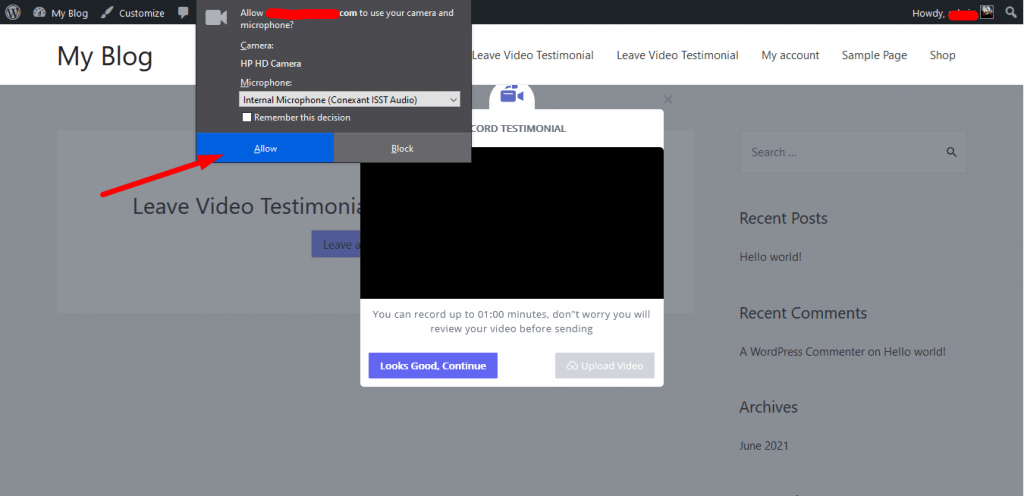 You can either record a video or upload a video. To record a video, click on the "Looks Good, Continue" option. But if you want to upload a video, click on the "Upload Video" button.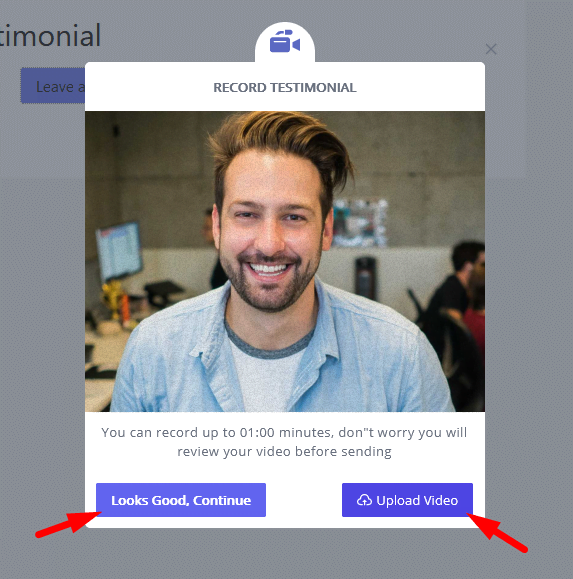 So, after 3 seconds, your video will start.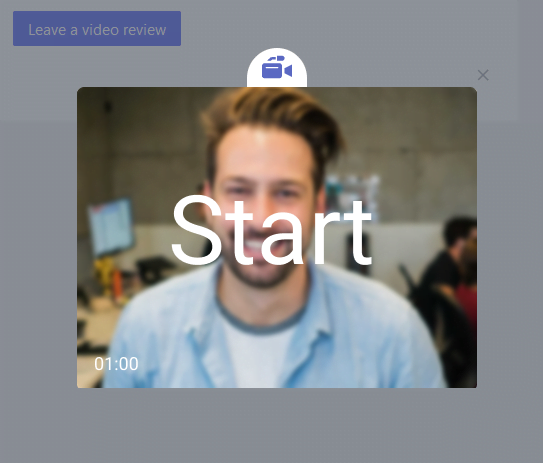 After finishing the video, you can submit the video, or you can start over.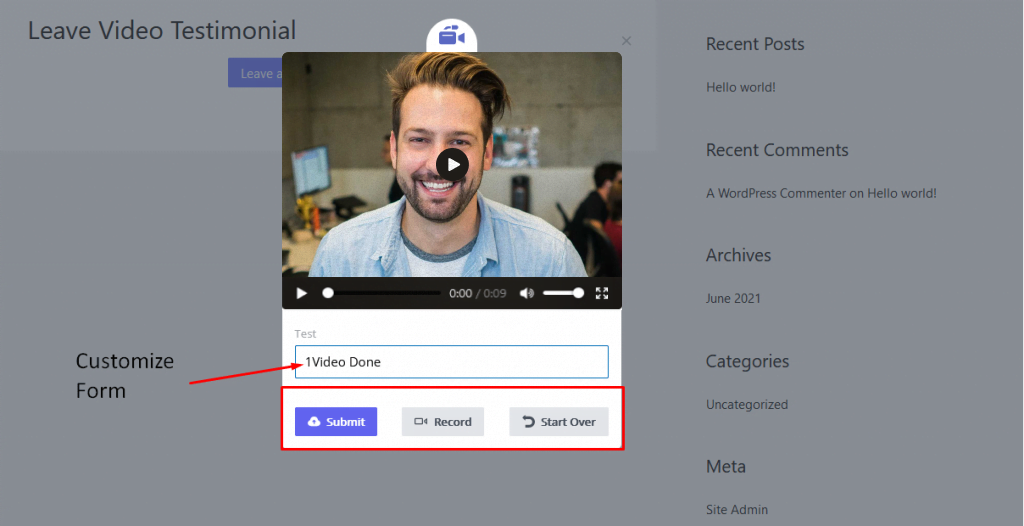 And if you want to upload a video, all you have to do is drop the video file on the selected area.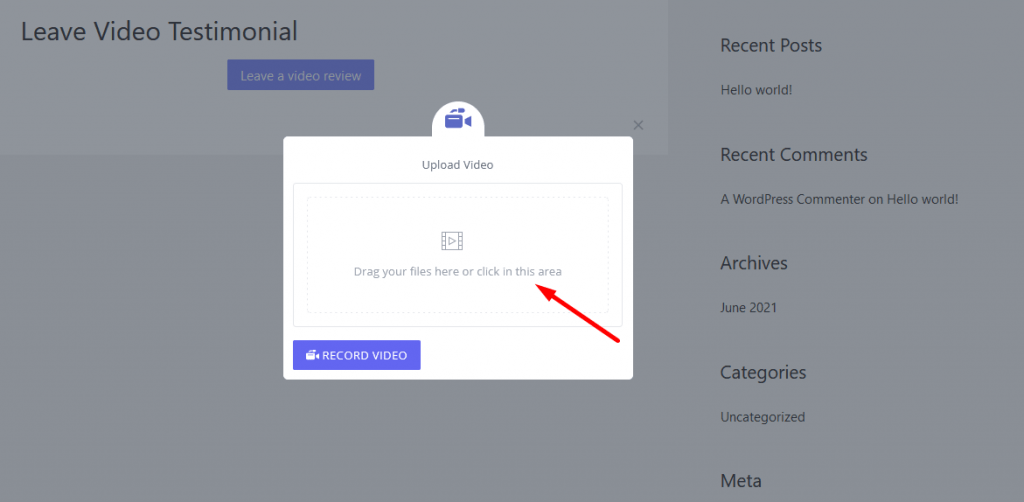 Conclusion
Keeping a record of the appreciation of your customers will go a long way to make your brand stand out. And rather than adding a boring written testimonial, adding a video testimonial will add another dimension to your website.
And with these plugins, Elementor widgets, and Gutenberg blocks, you can collect and display video testimonials anywhere on your website. Collect and show as many reviews as you want.
If you have a testimonial plugin like Easy Video Reviews plugin, then it will not be any problem. So what are you waiting for? Grab your copy now?